Replace Your Car's AC Thermal Expansion Valve or Orifice Tube
Your car or truck's AC system is under extreme pressure and the thermal expansion valve or orifice tube monitors the amount of pressure and the temperature of your A/C system. It calculates the precise amount of refrigerant that can safely go into the evaporator. A failing expansion valve or orifice tube often causes a vehicle's air conditioner to blow hot air.
Replace or Repair
Expansion Valves: Too much refrigerant causes your evaporator to get too cold whereas too little refrigerant would result in inadequate cooling. The expansion valve is a complex valve that regulates refrigerant flow. This process of metering the refrigerant adjusts the flow according to the temperature of the refrigerant in the evaporator coil. Talk to one of the pro mechanics at Scholls Ferry Automotive, as this part can be replaced on its own and does not require the entire replacement of the AC assembly.
Orifice Tubes: Unlike the expansion valve, the orifice tube is a simple fixed device with no moving parts. It therefore cannot vary the flow of refrigerant into the evaporator, but rather causes a permanent restriction in the system. However, like the expansion valve the orifice tube regulates refrigerant flow through the system and filters debris which may come through in its screen. Often fixing a "bad orifice tube" requires replacing the entire evaporator assembly.
More AC Repair Services:
Truck and Car AC Repair Services
Freon Recharging Services For Your Car Or Truck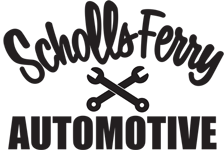 Would rate 6 stars if I could. I came here at recommendation from my wife. She said the folks were very accommodating, transparent, and happy to ask questions. I had the same experience. The crew was more than happy to pick my car back up to show me an issue they had documented on the bottom of my car. I had a software recall issue that was causing wonky warning lights to pop up. These guys checked and rechecked every box at no extra charge to ensure they hadn't missed something on their end. Despite finding out it was a warranty issue for the dealer to fix, they never charged me for the troubleshooting. I really appreciated the support, and will be coming back!
Gregory Hathorn
, 09/27/2023
join our team
We are currently on the lookout for the following: