Service Technician
Scholls Ferry Automotive has job openings available for a Service Technician We're looking for honest, dedicated, customer-service oriented people to join our team at Portland, OR.

Service technicians are responsible for providing regular maintenance to customer vehicles, as well as inspection and repair of vehicles with operational or safety concerns. Technicians are responsible not only for the service we provide, but also Scholls Ferry Automotive's reputation as a trustworthy and dependable auto shop. Because of this, a successful service technician will have a strong understanding of automotive maintenance & repair, strong attention to detail, and a dedication to honesty and fairness.

Automotive Technicians are Responsible for:
Performing a wide range of automotive maintenance and repair services across many makes and models
Completing all work orders correctly and accurately
Maintaining accurate and organized notes and paperwork on all jobs
Practicing safe work principles
Applicants are required to be:
At least 18 years old
Recipients of a high school diploma or GED
In possession of a valid driver's license
Familiar with multiple makes and models of vehicles
Committed to keeping up to date on automotive knowledge
Dependable, honest and organized
Available to work weekends and some holidays
Click here to submit your application for this position.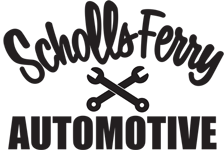 Would rate 6 stars if I could. I came here at recommendation from my wife. She said the folks were very accommodating, transparent, and happy to ask questions. I had the same experience. The crew was more than happy to pick my car back up to show me an issue they had documented on the bottom of my car. I had a software recall issue that was causing wonky warning lights to pop up. These guys checked and rechecked every box at no extra charge to ensure they hadn't missed something on their end. Despite finding out it was a warranty issue for the dealer to fix, they never charged me for the troubleshooting. I really appreciated the support, and will be coming back!
Gregory Hathorn
, 09/27/2023
join our team
We are currently on the lookout for the following: