SHOP LOCATION
Scholls Ferry Automotive
6600 SW Scholls Ferry Road
Portland, OR 97223
503-246-9781
Email Us!

Hours:
Monday
Tuesday
Wednesday
Thursday
Friday
Saturday
Sunday


7:00AM - 5:00PM
7:00AM - 5:00PM
7:00AM - 5:00PM
7:00AM - 5:00PM
7:00AM - 5:00PM
Closed
Closed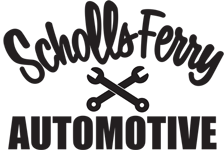 Would rate 6 stars if I could. I came here at recommendation from my wife. She said the folks were very accommodating, transparent, and happy to ask questions. I had the same experience. The crew was more than happy to pick my car back up to show me an issue they had documented on the bottom of my car. I had a software recall issue that was causing wonky warning lights to pop up. These guys checked and rechecked every box at no extra charge to ensure they hadn't missed something on their end. Despite finding out it was a warranty issue for the dealer to fix, they never charged me for the troubleshooting. I really appreciated the support, and will be coming back!
Gregory Hathorn
, 09/27/2023
join our team
We are currently on the lookout for the following: