Beaverton Auto Repair
Scholls Ferry Automotive - For Auto Repair Near Beaverton, OR
For quick, honest and affordable auto repair near Beaverton come to Scholls Ferry Automotive. Talk with any of Scholls Ferry Automotive's auto repair experts about your car or truck. We complete your repairs quickly and get you back on the road in a jiffy.
You are busy and your time is valuable. If you get sidelined by an unreliable car or truck bring it to the professionals at Scholls Ferry Automotive. From family cars to muscle cars, Scholls Ferry Automotive can help you save time and money on auto repairs. Get a fair estimate detailing the cost of repairs for your car or truck.
Schedule regular auto maintenance to avoid future high cost repairs and to keep your car or truck running at peak performance. Call one of our pro mechanics now at 503-246-9781. Don't stop moving forward, keep appointments and commitments.
Beaverton Calls Scholls Ferry Automotive First for Auto Repair
We are Beaverton's first choice for auto repair services. Take a moment to browse our website and get to know us then stop by Scholls Ferry Automotive or call us anytime at 503-246-9781.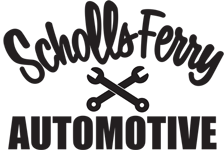 Would rate 6 stars if I could. I came here at recommendation from my wife. She said the folks were very accommodating, transparent, and happy to ask questions. I had the same experience. The crew was more than happy to pick my car back up to show me an issue they had documented on the bottom of my car. I had a software recall issue that was causing wonky warning lights to pop up. These guys checked and rechecked every box at no extra charge to ensure they hadn't missed something on their end. Despite finding out it was a warranty issue for the dealer to fix, they never charged me for the troubleshooting. I really appreciated the support, and will be coming back!
Gregory Hathorn
, 09/27/2023
join our team
We are currently on the lookout for the following: